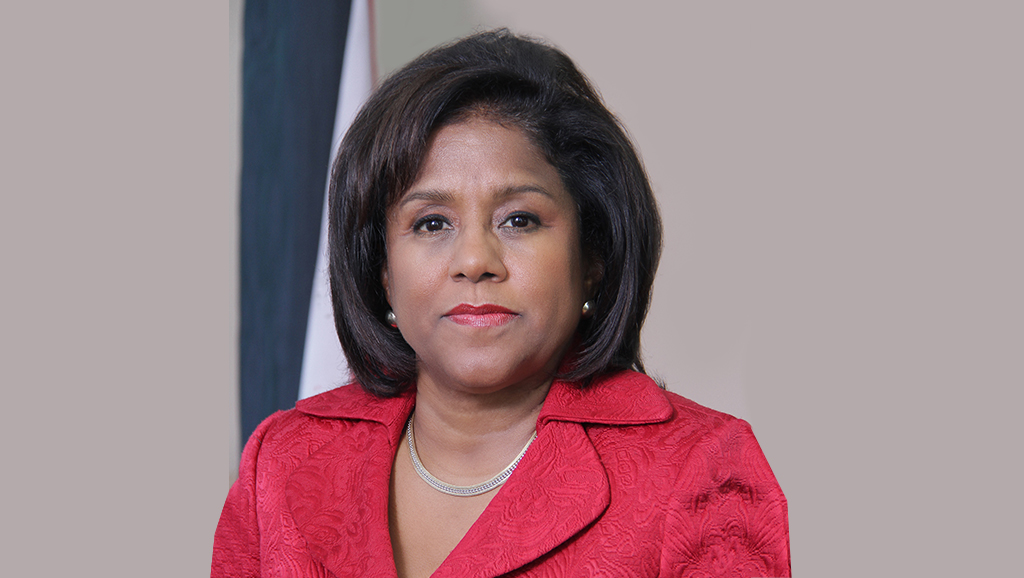 11 Jul

Interview with Senator the Honourable Paula Gopee-Scoon, Minister of Trade and Industry, Trinidad and Tobago

What were your first actions you took as Minister and what is your agenda for the rest of the year and for this term?

The Ministry of Trade and Industry (MTI) is mandated to expand exports, particularly in the non-energy sector; facilitate and attract investment; support the development of globally competitive businesses to contribute to sustainable growth and diversification of the economy; while ensuring consumer protection and empowerment. In this regard, the first actions taken as Minister of Trade and Industry were to:
Carefully consider the Government of the Republic of Trinidad and Tobago's Official Policy Framework for Trade and Industry;
Gather information on stakeholder needs, including conducting assessments on the existing trade, business and investment climate, and
Utilize this information to develop a comprehensive plan to chart its course during the 2016 to 2020 period.
Based on the information collected, it was seen that the effects of an extended period of declining oil and gas prices and lower production levels placed significant strain on Trinidad and Tobago's public and private sectors. Given Trinidad and Tobago's dependence on energy revenues, there was, and still is a requirement for all players to work together to strengthen existing opportunities while creating new opportunities for sustainable growth and development. In this regard, the following goals were established to ensure the MTI plays its role in effectively navigating the country toward economic transformation.


Goal 1: Diversified and Competitive Businesses:
Develop and revise the legislative, regulatory and administrative Frameworks to create an Enabling Business Environment. Projects include:
Develop and implement a National Quality Infrastructure – policy development completed
Develop and implement Strategic Plans for the Music and Film Sectors – strategic plans completed
Develop and implement a Manufacturing Sector Policy – ongoing
Develop and implement a Yachting Policy – Policy completed and approved by Cabinet
Develop and implement an e-Commerce Policy – policy development completed
Develop and implement a National Corporate Social Responsibility Policy – policy development completed
Develop and implement a National Policy on Imported Used Goods – ongoing
Improve Government Services utilised by the business community. Projects include:
Strengthening and Expansion of the Single Electronic Window for Trade and Business Facilitation – ongoing
Coordinate the implementation of reforms aimed at improving the ease of doing business in Trinidad and Tobago – ongoing
Goal 2: Increased Investment
Revise and develop the legislative, regulatory and administrative Frameworks to attract investment. Projects include:
Develop and implement a Special Economic Zones Policy and Legislation – Policy approved by Cabinet
Negotiation of Reciprocal Investment agreements: Panama, Colombia, Chile, Norway, Italy, and Brazil – Cabinet approval was obtained in June 2017
Implement a new Framework for the Approval and Facilitation of Investments in the Non-Energy Sector
Goal 3: Expanded and Diversified Regional and International Trade
Develop and implement legislative, regulatory and administrative Frameworks to grow exports. Projects include:
Develop and implement a National Export Strategy – ongoing
Develop and implement a National Services Policy – ongoing
Develop and Implement a Trade Negotiating Strategy for Energy Services – ongoing
Develop a Trade Mission Strategy – completed
Negotiate Trade Agreements, including:
Implement and expand Trinidad and Tobago-Venezuela Trade Cooperation Arrangement – ongoing
Implement trade agreements as a member of CARICOM with Costa Rica, Cuba, Dominican Republic, Colombia and Venezuela – ongoing
Implement the Partial Scope Trade Agreement between Trinidad and Tobago and Panama – Signed in October 2013
Negotiate and implement trade agreement between Trinidad and Tobago and Chile – discussions commenced in November 2016 and are ongoing
Execute trade support and facilitation program. Projects include:
Develop and implement the Aid for Trade Strategy – completed
Develop and execute an Implementation Plan for the World Trade Organisation (WTO) Agreement on Trade Facilitation – ongoing
Establish a new US$ Line of credit for Trade Financing through EXIMBank – completed
Establish a Grant fund Facility in the amount of TT$25 million, for exporters for the purchase of machinery and equipment – obtained Cabinet approval in 2017
Establish a Research and Development Facility for exporters – completed
Goal 4: Enhanced Protection and Empowerment of Consumers
Develop legislation, regulatory and administrative frameworks to empower consumers and encourage ethical business practices. Projects include:
Develop and implement Consumer Legislation
Develop and implement a National Consumer Policy – Policy completed and approved by Cabinet
Update Computerised Consumer Complaints Management System
Establish a redress mechanism to treat with Consumer Complaints
While there is a widespread consensus about the importance to diversify the economy, Trinidad and Tobago remains an oil and gas dependent economy. Trade and Industry – of course – are linked to the energy sector, however, not only, since industrial development brings opportunities to diversify the economy, make it more dynamic, create jobs and enable business development. What is your ministry doing in this regard?
In accordance with the Official Policy Framework of the Government of the Republic of Trinidad and Tobago (GORTT), the ministry of Trade and Industry (MTI) has responsibility for diversification of the economy away from the dependence on the petrochemical sector. In particular, the MTI is charged with the development of the Creative Industries and the Maritime Sector. In this vein, several initiatives have been implemented in these areas in order to create employment, enable business development and generate revenue. Moreover, the MTI has developed draft Policies for both the Services sector and the Manufacturing sector and has continued to improve the ease of doing business through TTBizLink.
Creative Industries
The Creative Industries sector of Trinidad and Tobago has been prioritized by the government of Trinidad and Tobago as it is deemed to possess many of the ingredients necessary to penetrate international markets. Strategic Plans have been developed for the Film, Fashion and Music subsectors to guide the MTI's development activities in these areas. The Music Strategic Plan was finalized in 2017 and the Film Strategic Plan was completed a short while ago this year and approved by the Board of CreativeTT recently.
The MTI through the Trinidad and Tobago Fashion Company (FashionTT) launched the Fashion Value Chain Investment Programme (VCIP) in 2017. As a result, five (5) designers selected for this programme have improved various elements of their value chain, including social media presence, business planning and technology, thereby improving their firm's brand and business models. More importantly, under the VCIP, all of the designers saw an increase in sales. One designer's sales increased by 60% over the duration of the project.
The MTI through the Trinidad and Tobago Music Company (MusicTT) launched the Live Music District (LMD) in March 2018. The City of Port of Spain currently serves as the geographic space for the first pilot phase of the Live Music District. The key objectives of this initiative are to provide spaces for live performances thereby increasing revenue and jobs in the LMD, develop the local music ecosystem and have an attractive offer of live music performances year-round, which would lead to Trinidad and Tobago becoming a key destination for Caribbean music. Within this Pilot Phase, thirty-one (31) venues have signed an agreement to be part of the programme. Over 137 artistes have registered to participate in the Live Music District. To date, over three hundred (300) performances have taken place in over twenty-six (26) venues. As a result of this initiative, artistes are presented with a viable avenue for revenue generation.
The MTI through the Trinidad and Tobago Film Company in 2018/2019 will implement the World Class Film Skills Training and Certification programme which will use comprehensive research to formally identify the skills and training gaps in the industry, and then develop long and short courses to train and certify above- and below-the-line positions, offered at reasonable costs to stakeholders. This programme will not only ensure that there are recognised and currently-trained workers to service both domestic and incoming productions but will also increase overall production standards in Trinidad and Tobago.
We also extended the Production Expenditure Rebate Programme for the film industry and are seeking to fine-tune the process so that it is more user-friendly.
Maritime Sector
Trinidad and Tobago's commercial maritime and yachting industries are the beneficiaries of several projects being undertaken by the Standing Committee for the Development of the Maritime Sector. The Committee has focused on the implementation of projects to improve the commercial maritime and yachting sectors.
Yachting in Trinidad and Tobago is now guided by a Cabinet approved National Yachting Policy, which outlines strategies for the sustainable development of the leisure marine industry. Further, the Committee advocated for the exemption of Value Added Tax (VAT) for foreign yacht services which became effective on February 1, 2017. A sector specific marketing and promotional plan is now guiding stakeholder efforts to increase the number of cruiser arrivals. Additionally, leisure marine visitors will accrue benefits from the impending Single Harmonized Immigration Form which is engaging the attention of the legislative drafters. This old form, once revised, will provide a more efficient and customer-oriented experience for persons entering the country by pleasure craft. The development of a marina in Tobago is also being explored.
With regard to commercial maritime, in December 2017, seventeen (17) graduates benefited from the Maritime Apprenticeship Programme accessing new employment opportunities in the maritime sector. The Programme was a collaboration with the Youth Training and Employment Partnership Programme (YTEPP) Limited and Caribbean Dockyard and Engineering Services Limited (CARIDOC). Guidelines for the expansion of transhipment and cold stacking of vessels were created and an inter-agency Committee was established to review and recommend applications and monitor the sector's activities. Both cold stacking and transhipment are recognised as having significant potential for foreign exchange revenue generation and diversification. Support continues for the formulation of a National Maritime Policy; a Maritime Spatial Plan for the Western Gulf of Paria and the removal of derelict vessels from the Gulf of Paria. The Government recognises its role as facilitator and is working steadfastly to ensure the targeted sectors' development with the intent of supporting economic diversification.
Draft National Services Policy
Can you tell us more about the National Quality Policy 2018-2030? What should we know and, especially, what should investors or entrepreneurs in the U.S. know about this policy and its goals?
The National Quality Policy 2018-2030 was developed based on consultations with a wide cross-section of stakeholders, approved by Cabinet and launched on April 24, 2018.
The Policy seeks to build the National Quality Infrastructure by providing guidance to the development of the human capital, physical infrastructure governance arrangements, and implementation of legal reforms. The Policy seeks to build a quality culture in Trinidad and Tobago among our manufacturers and consumers. Also developed was an implementation and communication plan.
More specifically, in relation to the U.S., the Policy is expected to assist Trinidad and Tobago in meeting international requirements such as those under the Food and Safety Modernization (FSMA) in the U.S. While Trinidad and Tobago's Export Promotion Agency (exporTT) provides our exporters with training and assistance to meet FSMA requirements, the National Quality Policy will ensure that the manufacturers, exporters and investors can access the necessary Quality Infrastructure to meet those requirements. Furthermore, entrepreneurs can be assured safe and secure, quality products.
Trinidad and Tobago understands that quality is critical to productivity, innovation, competitiveness, trade facilitation, and therefore it is expected that, through the implementation of the National Quality Policy, Trinidad and Tobago's products and services will be branded as high quality, we will provide value for money for our consumers, build globally competitive business, attract and retain customers, access new markets, and spur an innovative society.
As at 2018, is CARICOM growing to what you would expect to be? Is Caribbean trade and regional integration working and bringing visible results to citizens and businesses?
 Yes, CARICOM is growing into a source of economic development for the people of the region. Some of the goals of the Region include increased efficiency in the production of goods and services with increasing international competitiveness, attaining food security, achieving structural diversification and improving the standard of living of our people.
These goals cannot be achieved overnight, particularly given the small and often vulnerable economies, the sovereignty, and varying levels of development of CARICOM Member states. Given these realities, coupled with the recent hurricanes to affect the region, and the fact that several countries are still recovering from the global economic recession, regional growth rates are not what we would have hoped for.
CARICOM as a region, however, is constantly striving to achieve these goals not only to benefit regional businesses, but all citizens of the region. Trade is a major element of the integration initiative, and Trinidad and Tobago, and I believe the region, have benefitted from CARICOM. While Trinidad and Tobago is the major exporter in the Region, it is also a main destination market from products from other CARICOM Member States. Some of Trinidad and Tobago's major exports to the region include refined petroleum products, cement, paper products and food and beverage products, while its major imports from CARICOM Member States include crude petroleum, lubricating oils, margarine, rice, sugar, biscuits and orange juice.
According to the Prime Minister of Trinidad and Tobago, the first years of the government had to focus on fiscal consolidation, cut public spending and reducing its heavy reliance on energy revenues. So, what comes next?
The Government continues to focus on growing the non-energy sector through its diversification efforts. After years of decline, the non-energy sector is projected to break even in 2018. The non-oil sector is estimated to grow to 1.2 percent in 2019, rising to 2.9 percent in 2020.
REFORMS
Ease of Doing Business
The Cabinet has approved an implementation plan for reforms aimed at improving the ease of doing business. These reforms focus on specific areas of the business climate and implementation is on-going. Specific areas include:
Getting credit – the MTI has received Cabinet's approval for the Policy to Enhance the Secured Transactions Regime in Trinidad and Tobago. This policy will guide the implementation of a secured transactions and collateral registry system which essentially enables businesses and individuals to use moveable property as collateral to secure credit from financial institutions.
Resolving insolvency – the Ministry of Finance is seeking technical assistance from the World Bank for the Harmonization of the Bankruptcy and Insolvency Act with other pieces of legislation.
Trading Across Borders – in March 2018, the Customs and Excise Division operationalized tow mobile container scanners at the Port of Point Lisas, which will significantly reduce the time taken to inspect and clear shipments at the Port.
Starting a Business – the Registrar General's department is currently working to fully operationalize the e-Company Registration Module on TTBizLink, which will eliminate manual applications for company registration. Once completed, the time taken to register a business will be reduced from 10 days to 3 days.
Single Electronic Window for Trade and Business Facilitation – TTBizLink

During the first half of the Fiscal 2018, the Single Electronic Window (SEW)/TTBizLink continued operations at the forty-six (46) e-services.
During the first two quarters of Fiscal 2018, 114 companies registered to use TTBizLink and 721 individuals bring the total as at March 31, 2018 to 2,867 company or business accounts and 8,795 individual accounts registered on TTBizLink.
Further, significant progress was made in the following areas:
Plant Quarantine Services: The Ministry of Agriculture, Land and Fisheries achieved full transition to TTBizLink for Plant Import Permits and began the roll out of its use of the e-Mobile Inspection in the first quarter of Fiscal 2018.
On April 3, 2018 the Work Permit Secretariat, Ministry of National Security made a full transition to the e-Work Permit Module on TTBizLink for the application and processing of Individual Work Permits and Extensions to Individual Work Permits.
Strengthening and expanding the Single Electronic Window for Trade and Business Facilitation – TTBizLink
The Government entered into a US$25 million loan agreement with Inter-American Development bank in 2016 for strengthening and expanding TTBizLink.
Three components are:
Component 1: Enhancing and expanding the services of TTBizLink.
Component 2: Enhancing the Interoperability of TTBizLink
Component 3: Modernizing the Legislative, Institutional Framework for International Trade and Institutional Governance of the SEW
Trade Facilitation
The MTI developed several policies to grow trade and the competitiveness of local exporters in particular.
The National Quality Policy for Trinidad and Tobago 2018-2030 is completed and has been approved by Cabinet. The implementation of this Policy will ensure that Trinidad and Tobago is fully compliant with current international norms and practices.
National Trade Policy 2018-2022
The Ministry of Trade and Industry has, in Fiscal 2018, secured the services of the Consultant from ECLAC to commence the development of a new Trade Policy document for the period 2018-2022. The main focus of this Trade Policy is specifically geared towards establishing linkages and frameworks to improve the platform for doing business in Trinidad and Tobago, as well as, enhancing Trade Facilitation and Trade Facilitation Support Services.
The Aid for Trade (AIT) Strategy
The Aid for Trade Strategy was launched in April 2017 and is expected to provide support for the following projects:
Publication – Gap analysis, Trade Information Portal and Training of Enquiry Point
Conduct a Time Release Study
Authorized Operator Programme
Exporters' Guidebook
Export Promotion of SME's in Tobago
Development of a Statistical Services Data System
Trinidad has an excellent reputation as a destination for investment capital. Where do the opportunities lie? Where are the incentives and options for private capitals?
It goes without saying that Trinidad and Tobago is a premiere business and investment destination in the region with opportunities in multiple areas. At the broad sector level, Trinidad and Tobago has developed strategic roadmaps with diverse opportunities in:
Information and Communication Technology and Software Development
Creative Industries
Maritime Services
Aviation Services
Agribusiness and Fish Processing
Financial Services
Manufacturing
Tourism
Information regarding the specific opportunities are available on the website of our investment promotion agency, invesTT (www.investt.co.tt). The agency recently completed four Investment Prospectuses identifying lucrative business opportunities in Aluminium Recycling, a Film Studio complex, LED Component Manufacturing and Energy Storage Manufacturing.
In addition to InvesTT, our other sector-focused companies, such as CreativeTT, the Cocoa Development Company Limited, and the Trinidad and Tobago International Finance Company Limited, together create a great ecosystem of Government support to help investors set-up and thrive in Trinidad and Tobago. The important message is that Trinidad and Tobago is open for business and happy to facilitate any investment that is mutually beneficial to the investor and the country.
Trinidad and Tobago allows for 100% ownership by a foreign entity of a locally registered company and 100% repatriation of profits. We have many incentives in place, such as duty exemptions on capital equipment and raw materials for manufacturers, an excellent free zone programme, and a host of very competitive sector-based incentives in agriculture, the creative industries and tourism. All these incentives are listed on the Ministry of Finance's website.